History
The Romans
There was probably a Roman settlement nearby. The existence of Roman roads such as Ermine Street (High Dyke), King Street and Mareham Lane indicate that the area was much visited. Roman artefacts have been found on the A52 and near to Nightingale Wood. The area is patterned with roman roads heading north-south. One suggested road from Sapperton in the south to Ancaster slices directly through the parish and villages of Aisby & Oasby. The county archaeological offices have discovered some local fields littered with Roman debris. Historians now believe that Ermine Street and King Street which runs roughly alongside Heydour parish were both used as the military route north.
On the A52 near Newton, which is thought to have been a Roman road heading to Leicester, a villa was found in 1818. An engraving of a mosaic and a sketch plan was made by W Fowler of Winterton and included in a publication of Roman mosaics. This also showed a reconstruction of the building with diamond shaped roof tiles.
Source: Whitwell JB: Roman Lincolnshire. SBN902668013
Grantham Journal 21 Apr 1923
Ancient Remains Found Grantham.
During recent excavations in and near to Nightingale Wood, east of Heydour Lane about six miles east of Grantham, Mr. A. Ivy White has discovered a fine example of the polished stone axe, five inches long and two inches wide, made out light-grey clay.stone, hard and uniformly dense, and well sharpened. He has also found the upper stone of a large quern, or corn mill, and an elegantly shaped bronze fibula or brooch. Besides these, there are a large quantify of Samian and other Roman pottery in fragments, and much charcoal. Many limestone slabs and blocks, not in situ, were found just below the ground surface, and there are other indications of an early settlement in the immediate neighbourhood. The '* Roman bath " on the west side of the Heydour-lane is about half-a-mile away from these finds, and it is interesting to note that the new discoveries lie in a direct line from the Roman bath (where a tessellated pavement was discovered some years ago) to Ancaster. A trackway may have existed in Roman times from the residence at "Roman Bath" northwards through Aisby, Heydour, (where a coin of Constntine the Great has recently been found), and on by the valley south of Ancaster and the Lady Well, to the Ermine Street and the Ancaster camp. The whole of the finds have been given to the Grantham Museum.
Anglo Saxon Heydour
After the Romans left Britain in the fourth century it is thought that the Anglo Saxon people took over and gradually established a new order. Kings and kingdoms probably rose in the mid to late sixth century. Large and small Anglo Saxon burials and cremations exist in many places between Heydour and Lincoln. Two groups of cemeteries have been found in North Kesteven and it is thought that they served large areas. One of these is at Quarrington. The parish is situated well within the area of the British tribe Corieltavi which inhabited Lincolnshire and Leicestershire in the pre Roman and Romano-British eras.
Sleaford is where the largest amount of coin pellet moulds ever found in Europe was excavated within the area of Old Sleaford which was a tribal centre during the Iron Age. Also, excavations within the town centre of Sleaford uncovered the remains of a small Anglo-Saxon settlement considered to be built in the eighth century.
Sources: Green Thomas:Britons and Anglo-Saxons Lincolnshire AD400 - 650 ISBN9780902668249
The Medieval Parish
Heydour was a settlement in Domesday Book, in the hundred of Threo and the county of Lincolnshire. It had a recorded population of 28 households in 1086, putting it in the largest 40% of settlements recorded in Domesday.
Households
Households: 24 freemen. 3 smallholders. 1 priest.
Land and resources
Ploughland: 5 ploughlands. 6 men's plough teams.
Other resources: Meadow 80 acres. Woodland 16 acres. 1 church.
Owners
Aisby was a settlement in Domesday Book, in the hundred of Threo and the county of Lincolnshire. It had a recorded population of 11 households in 1086, putting it in the smallest 40% of settlements recorded in Domesday.
Households
Households: 9 freemen. 2 smallholders.
Land and resources
Ploughland: 4 ploughlands. 4 men's plough teams.
Other resources: Meadow 100 acres.
Valuation
Annual value to lord: 3 pounds in 1086; 3 pounds in 1066.
Owners
Oasby was a settlement in Domesday Book, in the hundred of Threo and the county of Lincolnshire. It had a recorded population of 21 households in 1086, putting it in the largest 40% of settlements recorded in Domesday.
Households
Households: 18 freemen. 3 smallholders.
Land and resources
Ploughland: 7 ploughlands. 6 men's plough teams.
Other resources: Meadow 40 acres. Woodland 30 acres.
Owners
The Bussy Family
The Bussy (or Bussey) family have a very long history in these parts of Lincolnshire. There is a record of them occupying the manor house at Hougham from the late 13th century. One of the Sir John Bussys was a supporter of King Richard 11 and was beheaded outside the castle gates at Bristol just prior to the King's arrest. In the North aisle of Heydour church is some restored stained glass of the reign of Richard 11 who died in 1399. In 1398 Bussy had read out the announcement of the King's banishment of Lords Mowbray and Bolingbroke. The latter came back to seize the throne the following year as Henry 1Vth. Walsingham described Bussy as brutal beyond measure and covetous.
The first record of a Bussy occupying Heydour Castle is from 1511 when Edmund Bussy was born. His son Edmund is recorded as occupying the manor of East Hall in Haydor. A sign that the family were of significance is shown by a 1535 will of Sir John Bussey. Apart from many properties and chattels, he left over £!500 to various relatives. According to the National Archive calculator this amounts to more than £412,000 today.
"One Bussy, a younger brother of " the house of Busseys of Hougheham, dwelleth in an old place at '* Haider, that he and his parents hath of a fee farm, of the church "of Lincoln."
The site of that old place is still clearly indicated by the remains of its moat, and a few other relics of its former existence have survived its destruction. Among these is a large figure in stone of a female playing upon a musical instrument, and now built into a garden wall on the north side of the church, where the old manor-house of Haydor formerly stood".
Another Edmund was knighted at Belvoir Castle in 1603. He enclosed and depopulated the "town" of Haydor and was later buried there in 1616. His successor Sir Miles, had moved to the manor house in Oasby in 1619 and aboout 1620 sold the castle to the Halford family. Shortly thereafter, the estate was passed on to the Newton family.
In the 17th century the estate at Culverthorpe was held by the Listers. In around 1679, it was bought by Sir John Newton who remodelled the existing house. His son, also John, undertook alterations in 1699. In the 1730s Sir John's grandson, Michael, made further changes, possibly employing either Roger Morris, who certainly worked on Newton's London house, or Robert Morris, who dedicated his Lectures on Architecture to Newton, or both. On Newton's death in 1743, his only son having died in infancy, the estate passed to the Archer-Houblon family. Sir John Houblon was the first Governor of the Bank of England.
How Heydour and Culverthorpe were joined.
Click here for information about Heydour Castle
Date: 1675
The vicar hath the third part of Tyth Corne: the part of Tyth Hay in the new Inclosure: hath Tyth wooll and Lamb hath Tyth milk from Lammas in Heydour and Kelby and Colverthorpe and in Colverthorp a winter quarter from Miclemas till New Yeares day: and allso the 3rd part of Tyth Corne of some lands in Swarby field ioyneing upon Colverthorpe: Tyth wood in Haydor wood: Easter book and small tythes.
Date: 1655
John Newton, Esq., querent, John and Susan Rollison deforciants.
Property: cottage, 50 acres of land, 22 acres of meadow, 8 acres of pasture in Oasby, Aisby and Heydour. Easter term
Click here for a view of the parish and English jurisdictions of 1851
Rodolph Ladeveze Adlercron bought Culverthorpe hall and estate in the early 20th century and employed Reginald Blomfield to undertake alterations. The hall remains privately owned.
Stamford Mercury 2 Apr 1802
The Owners of Estates in the several Townships of KELBY, AISBY, and OSEBY, and in the Parish of HAYDOR, in the County of Lincoln, are requested to meet at the ANGEL INN in SLEAFORD, SATURDAY the tenth of APRIL, at eleven o'Clock the Forenoon, to take into Consideration the Expediency of Application to Parliament in the present Session, for an Act to divide and inclose the open Fields, Half Year's Meadow, Heath, Common Pastures, Commons, and Waste Lands, the said Townships and Parish. By Order, BF.NJ. HANDLEY. 9th March, 1802.
A parish enclosure act was passed through Parliament in 1803 with a map also published. A copy of the 1803 map hangs in the lobby of the Heydour Parish Village Hall in Aisby.
Census Figures for 1851 & 1861
The following is a census of the Grantham District (extract) as supplied by Mr W Emblow; Registrar.
Haydor including Azeby & Oasby
1851 400 persons.
1861 Haydor 7 homes, 29 males, 34 females. Oasby 25 homes, 77 males, 64 females. Azeby 32 homes, 70 males, 72 females.
See here for 19thC occupants of the parish
Grantham Journal 8 January 1870
OASBY. Cow club.—The members of the Oasby Cow Club held their half-yearly meeting at the Houblon Arms Inn on the 4th inst., and on the Secretary reading over the accounts, the society was found to be worth over £121. Business being over, the members sat down to a substantial supper, which was provided by host Wakefield, and which was evidently enjoyed by all present. On the cloth being drawn, the chair was taken by their worthy president, G. King, Esq., to whom the society feel very much indebted. The usual loyal and patriotic toasts were drunk, and a very pleasant evening was spent.
Grantham Journal 31 Dec 1870
OASBY. The members of the Oasby Pig Club held their half-yearly meeting at the Houblon Arms Inn Tuesday, the 2lst inst., and on the secretary leading over the accounts the club was found to be worth over £25. The members regaled themselves with ale and tobacco, and a very pleasant evening was spent.
Grantham Journal 2 January 1892
A Funeral Feast.— The late Mr. John Archer Houblon, of Hallingbury-place and Coopersale House, Essex and Culverthorpe, Lincolnshire, D.L. and J P (High Sheriff for Essex in 1840). who died on the 6th October last, aged 87, left personal estate valued at £23,817 5s 3d It was a direction in the testator's will that his body should be carried to the grave by 24 labourers on his estate, and that each should have £2, a good meat dinner, and " one pint of ale and no more."
Grantham Journal 14 August 1915
Gratifying Results: Most of our readers will be familiar with the fact that the late Mr. P. Selby, Aisby, had on his farm for a great number of years a stack of wheat which he declared should not be threshed until wheat had reached a certain price. What that price was no one ever knew but himself, not even his nearest relative, and about a year ago Mr. Selby died taking his secret with him! The stack contained the produce of about nine acres of wheat grown and harvested by Mr. Selby as far back as 1881, and certainly, on half-a-dozen occasions at least, it had been thatched. Often was he twitted by his fellow farmers regarding the stack, but Mr. Selby, a man who always faithfully kept his word, was obdurate, and to this day, had he lived, that stack would probably be standing. Succeeded in the business by his son, however, the latter decided that the old stack should be threshed, and quite recently, no less than thirty-four years after it was harvested, this was done. The wheat was found to be in remarkably good condition. On Saturday, July 24th. Mr. Hy. Bell, the Rollermill. bought the wheat for 60s. per quarter, and the delivery proved about three quarters the acre, the wheat being exceptionally fine. Yesterdav (Friday), a representative of the " Journal " had the privilege seeing some of the wheat at Mr. Bell's premises. It weighs 60 1/2lbs the bushel. This, of course, is quite the weight of an average crop of modern wheat, and it is nearly equivalent to the present year's extraordinary crop for this district, a bushel weighing 62lbs, and which Mr. Bell declares is better than any he has milled for over thirty years. For manv years he had transacted business with the late Mr. Selby and is particularly gratified with the results obtained from the stack his old friend guarded zealously. Mr. Bell has had some of the wheat made into bread—and very good it is a sample which, together with some of the wheat, may seen at the " Journal " Offices. It is questionable whether any parallel could found in the annals of British agriculture, and we hope that a sample of the wheat may find a place in some public institution, for the edification not only of the present but of future generations.
Grantham Journal - 22 May 1920
A BULL, winner of the second prize at Newark show, and belonging to General Adlercron, Culverthorpe Hull, was being led home Saturday, and when in the neighbourhood of Londonthorpe it broke away from the man in charge, and ran into Grantham, knocking a man off his bicycle en route, and damaging the machine. In Castlegate, the animal entered a narrow passage alongside Messrs. Smith and Warren's shop, and reached the garden at the rear, there contenting itself with tramping about, incidentally breaking a swing and generally commanding the situation until the arrival of its keeper and General manager, who succeeded in lassooing it. The bull was subsequently conveyed home on a float. The incident naturally created some excitement.
Grantham Journal - 11 October 1930
Meliora Lavinia Adlercron born May 2 1912, died Oct 4 1930. Laid to rest in the village churchyard at Heydour.
FUNERAL AT HEYDOUR. Sincere sympathy was aroused in the Grantham and Sleaford district last week for Brigadier-General B. L. and Mrs. Adlercron, of Culverthorpe Hall, when it became known that two of their daughters, Lilias and Meliora, had met with a serious accident whilst motoring on the Great North Road, near Colsterworth, on Monday week. It appears their saloon car, swerving to avoid child who crossed the road, skidded and overturned. Miss M. Adlercron was severely hurt, and died at her home on Saturday night. Fortunately, her sister escaped with slight injuries. Deceased, who was only. 19 years of age, entered into the social life of the neighbourhood. and was beloved by all with whom she came in contact. Educated partly at Culverthorpe, she afterwards went to Paris, where she studied art, to which she was devoted. Deceased was well known in hunting circles, especially in Lincolnshire, and was a popular member of the Belvoir Hunt.
The Inquest was held at Culverthorpe,on Monday, the District Coroner, Dr. Cragg, who sat with a . jury. Dr. O. Giles, of Sleaford, said there were multiple injuries to the scalp and right knee, and innumerable cuts and abrasions of the body and back. No bones were broken. Death was due to septic absorption from the wounds, and from shock caused by the wounds.—P.C. England said he found two skid marks forty-four feet long, caused, he believed by the application of the brakes. After that there were marks all over the road for sixty-nine feet. It appeared as if the car had overturned and continued on its side, the skid marks being about four feet from the proper side of the road. Brigadier-General Adlercron. who identified the body, said his daughter had been driving for two and-a-half years.—The verdict was that deceased died as a result of injuries received when the car she was driving was suddenly overturned.
Meliora's sister Lilias, who survived, later went to live in Canada. She lived to a great age and before expiring expressed a wish to be buried next to her sister in Heydour graveyard. Their headstones are adjacent.
Western Daily Press - 04 January 1950
SIX BRIGADES SAVE HALL Six brigades were last night fighting a big blaze on premises adjoining Culverthorpe Hall, near Grantham (Lincs). Culverthorpe Hall, a 16th century mansion, once belonged to Michael Newton, kinsman of Sir Isaac Newton- Thirty firemen from Grantham, Sleaford and Bourne were engaged at the fire, which badly damaged the sole electricity supply of the Hall, the residence of Col and Mrs F. E S. Bowlby. The fire broke out in the generating plant about 100 yards from the Hall, and after a series of minor explosions when the batteries burst the building housing the generating plant was enveloped in flames. Culverthorpe Hal1 itself was not Involved.
Grantham Journal - 21 May 1954
634 rooks killed at Culverthorpe Hall. A total of 634 rooks were killed the at the annual rook shoot at Culverthorpe Hall, by invitation of Col. F. E. S. Bowlby. yesterday week. Highest individual bags were those of Mr. C. Birch (99). Mr- Rollinson (79). and Mr P. (57). After refreshments. Mr. T. Fairchild thanked Col. Bowlby.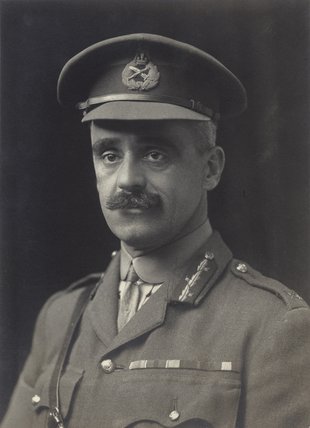 General Adlercron